Paris Pass
Tourist card to save money in Paris
Paris Pass
Paris Pass tourist card will save you time and money during your visit to Paris.
Below we explain the advantages, what is included, how to use it and if it is worth it. In addition, we give you a 5% discount using the code AFFPP5, to buy the card on the official website.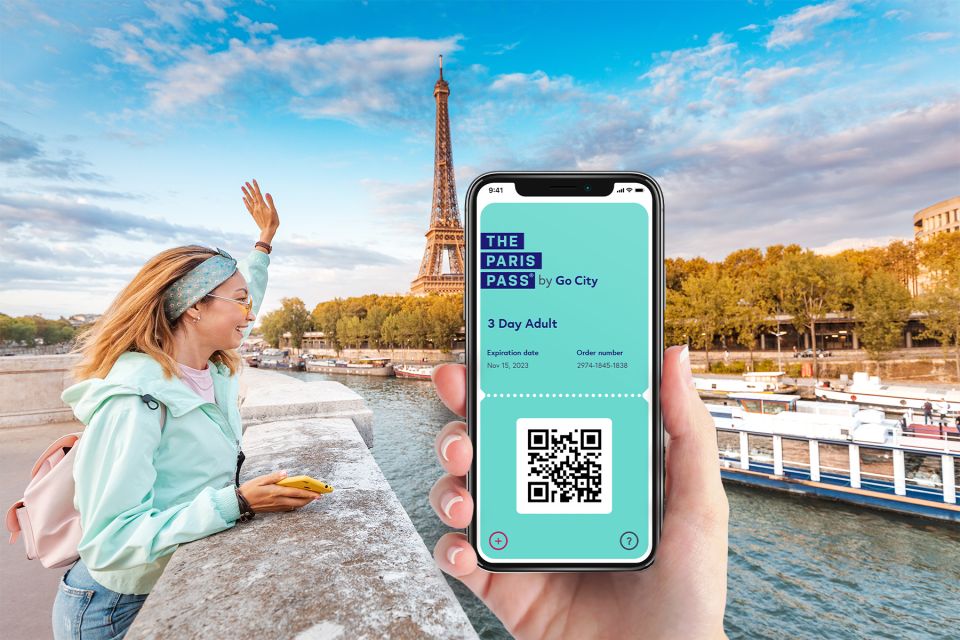 Is it really worth it?
The first question that you are sure to ask yourself is: is it worth it or is it just a scam?

The truth is that if you want to visit attractions and museums, use the river cruise and join a tour, the answer is yes, without a doubt. But remember that you must make the most of the day, organizing the included places that you want to visit.
Take a look at this example of an itinerary that you can do with the 4 or 6 day card, which includes the Museum Pass:
1-day Hop-On Hop-Off bus tour with Big Bus (€39)
Visit the Louvre Museum (€17)
Climb the Eiffel Tower, with a guided tour (€34)
Do a wine tasting in Les Caves du Louvre (€35)
Finish watching the sunset from the Arc de Triomphe (€13)
If you do it on your own, it gives a total of €138 for a single day. But the 4-day Paris Pass costs €199 and you can still take advantage of it for 3 more days.
You see, combining attractions and taking advantage of them per day you can save up to 50% at the box office.
Advantages of the Paris Pass card
Once purchased you will have free access to more than 75 tourist attractions and places of interest in the French capital and its surroundings ( Versailles for example )
In addition, by having your pass you can avoid queues at the ticket office in places like the Louvre Museum and the Orsay Museum.
Another of the advantages that it offers you is that you will not have to spend your money in cash, access all the attractions included in the package just by showing your card.
You avoid misunderstandings with the language, you arrive at a place, show your card and that's it.
How does the Paris Pass work?
It is activated the first time you scan it at an attraction and is valid for consecutive days of the duration of your pass, 2, 3, 4 or 6 days.
In other words, if you have a 2-day Paris Pass and activate it on Monday, Monday will be considered your first day and your last day will be Tuesday. That is why the ideal is to use it first thing in the morning, in order to have time to take advantage of it.
When you buy the pass you can print it or show it on your mobile, you don't need to pick up a physical card. However, the Museum Pass (4 and 6 day passes) should be picked up once you are in Paris.
Museum Pass collection point:
Big Bus Information Center
11 Avenue de l'Opéra75009 Paris
Every day from 10:00 a.m. to 5:00 p.m.
Some attractions require a mandatory reservation. You can see all the information about reservations in the frequently asked questions on the official page. It is a simple process.
Paris Pass prices
Two-day Paris Pass:
Adults €90
Children (12-17 years old) €55
Unlimited use for 2 consecutive calendar days from the time of its first use.
Three-day Paris Pass:
Adults €120
Children (12-17 years old) €70
Unlimited use for 3 consecutive calendar days from the time of its first use.
Four-day Paris Pass:
Adults €199
Children (12-17 years) €74
Unlimited use for 4 consecutive calendar days from the time of its first use.
Six-day Paris Pass:
Adults €229
Children (12-17 years) €84
Unlimited use for 6 consecutive calendar days from the time of its first use.
Check the price of the day, there are usually special discounts.
Includes FREE ENTRY to the following sites of interest in and around Paris:
You can see the entire list of places and activities here on the official page.
The Paris Pass has very good opinions , which you can see here. Buy Paris Pass.
More attractions in Paris
Continue planning your trip to Paris with these ideas